Hi all!
Last Week, some of the members of LUG4/2 had the privilege getting together and doing a pre-release review for the 2014 Modular, 'Parisian restaurant'.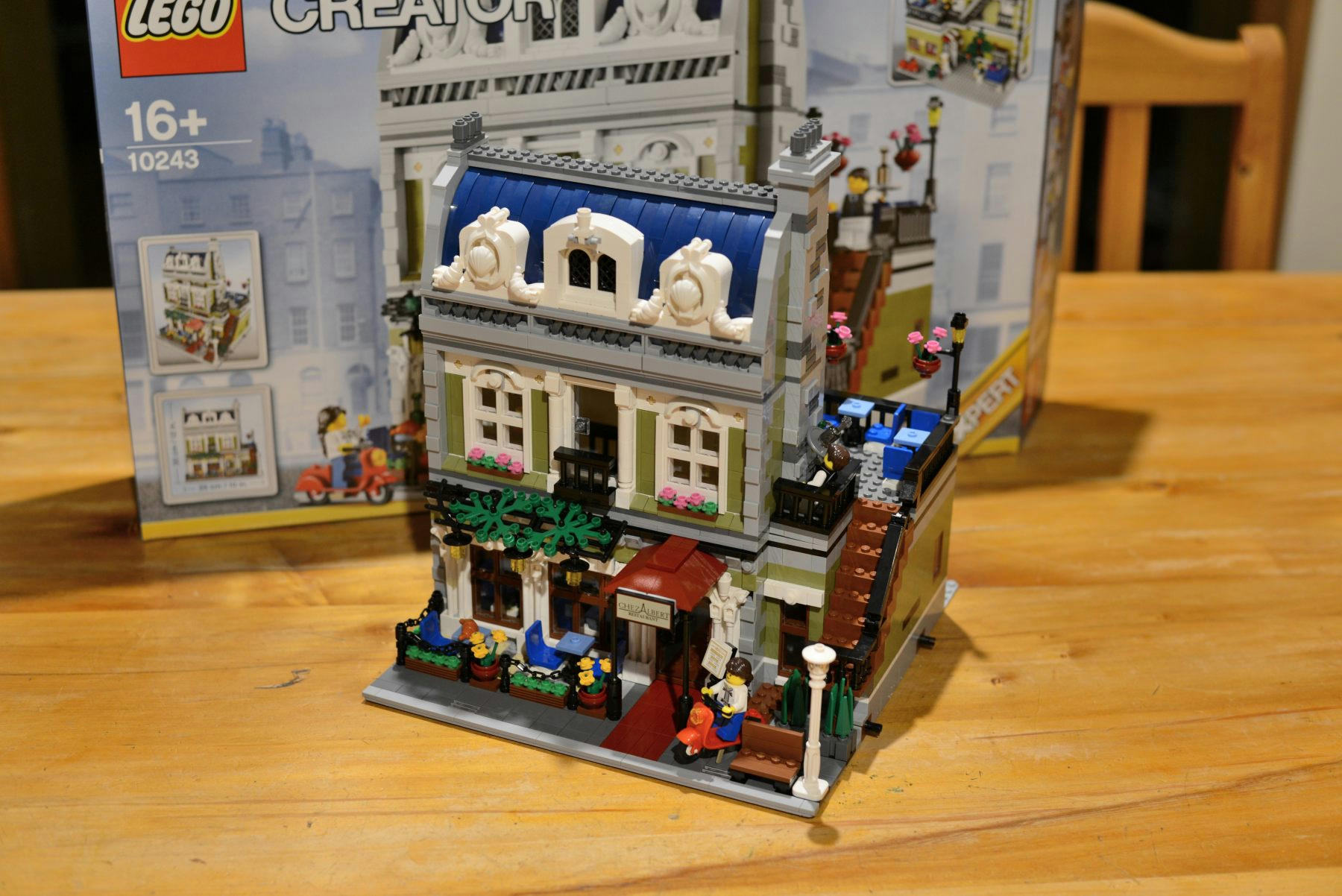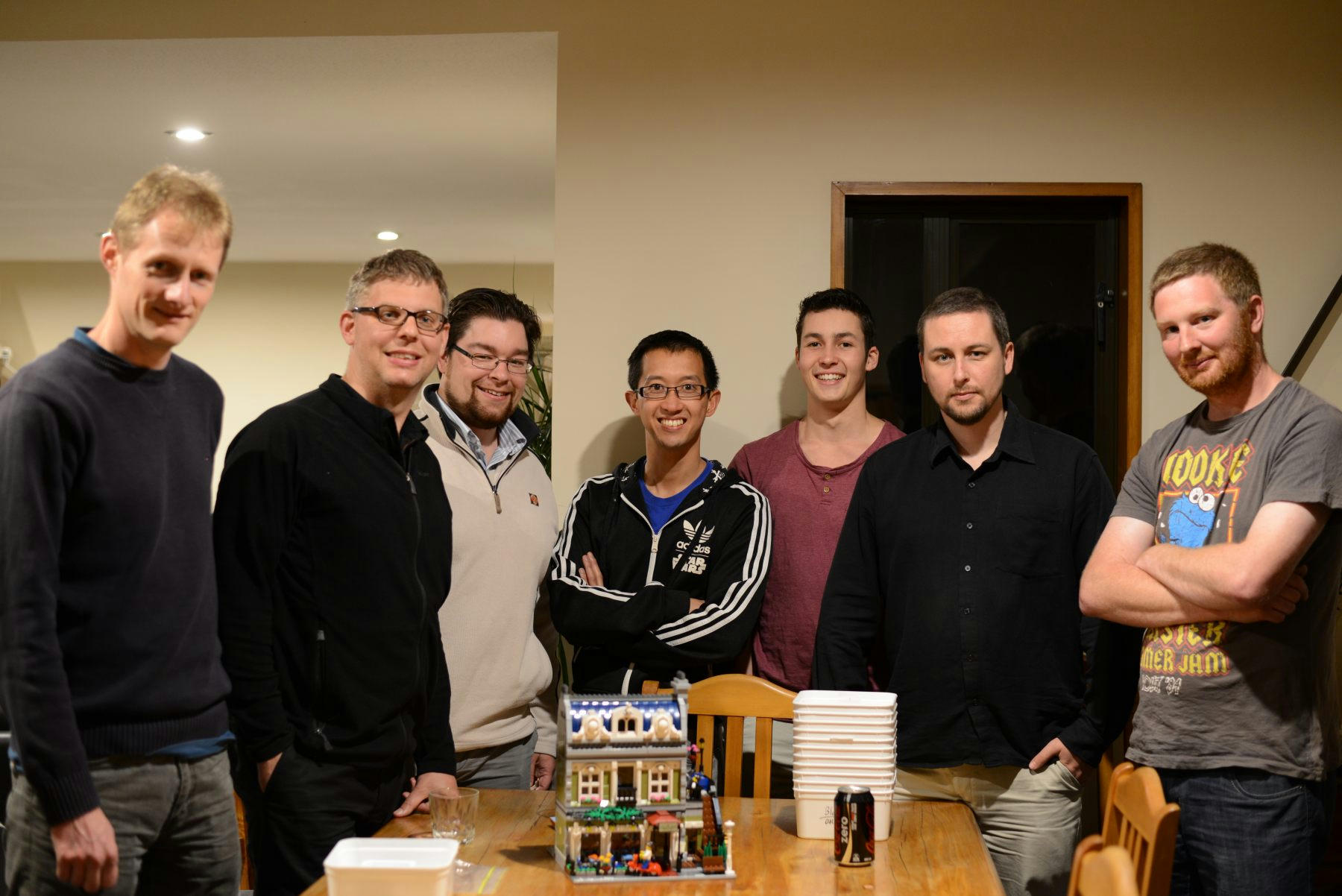 Before we get started, here is a quick time-lapse video of the build:
And you can see the rest of the photos here
Now, on to the review!
Overall, everyone was very impressed by the set, with the most noticeable factor being the attention to detail. As example, Personally, I was blown away by a 1×1 light blue brick, which was printed as a 'milk' container. This milk container is inside an opening fridge, inside the kitchen, which is just one part of the 1st floor, the restaurant. There are a large number of little things that really make this build beautiful. I also love the stylizing of the roof – the texture and part usage gives some very nice effects that can't quite be caught with the camera. Centuri also noted the design of the roof was fantastic, and wanted to echo the level of detail inside was unlike any other sets so far. No doubt the thought gone into the set is huge!
Just shy of 2500 parts, it's not bad value for money, and you get a good range of new parts and colors that aren't otherwise widely available. I can't speak for the entire build as I only did about 1/8th of it, but the impression I got was that nothing was too repetitive or tedious (With the exception of the kitchen floor, but that was necessary, really). It seemed to have great variety of clever techniques, and there are a couple of clever Easter eggs that I won't spoil for you too much.
Overall rating? Well, here were my thoughts:
Architecture Design:  9/10. Overall, it's very nice. The building is really fantastic, and it will effortlessly fit in with the rest of the modular lineup – though you might want to make sure it doesn't show them all up! The only slight hesitance from the 10 for me was the use of olive green. I know many won't agree on this, but I found the colour slightly off next to the beautiful Dark Blue roof.
Parts: 8/10. A good range of parts in a great range of colours, would no doubt come in handy for all MOCers.
Build: 8/10. Again, I didn't build the entire set, but I got the impression everyone enjoyed the build and was impressed an multiple stages through their section. No doubt building the whole thing would make a great evening plan when you need a night off!
Price: 9/10. At a retail of $300, it's not bad at all. If your patient, you can usually pick modulars up 20% off which would even bring it below 10c per part.  As far as parts go, this is the second biggest modular (with the first being the Town hall which is only 300 parts more and cost an extra $60…).
Overall, I gave the set a 8.5 out of 10. Very well designed and such fantastic ideas for little details.
The set will retail for $299.99 in New Zealand, and is released on January 1st, 2014. But it may be up to another few months after that before it reaches New Zealand shops.
Ivan Mackintosh who was also part of the build did another great little review I've put below – Warning, it could be seen to include spoilers about the build!
10243 Parisian Restaurant
As we've come to expect with the Modular building series the Parisian Restaurant packaging box is really well illustrated. It shows off the building to its best and highlights a few of its many features using comic scenes with the minifigures. It also depicts how it could fit in to the street with the previous buildings – the Palace Cinema and the Town Hall.
It isn't the largest building on the street but the part count (around 2500) is certainly up there. This is due to the incredible amount of detail that that has gone in to this building both inside and out. In contrast to the Palace Cinema where the interior was sparse, this model has so much detail inside that your eyes don't know where to look first! In fact there is so much detail that you will only see some of it during the build process. For instance the mosaic front patio spells "Chez" (part of the restaurant name Chez Albert) but that is then hidden under the tables, chairs, plants, railings etc. The fridge in the kitchen contains a custom printed brick that is used for creating a milk carton and then the fridge door is closed.
Talking of custom printed bricks, this set does not contain a sticker sheet – yay! Instead we are treated to custom printed bricks and tiles. New printed bricks include the menu, the restaurant signage, the milk carton and a few standard ones such as wall pictures and the obligatory clock.
Some new pieces have been introduced these include a useful 2×2 round tile with a hole in the middle. This is used for mounting bricks upside down, such as next to the kitchen sink, where it allows a stack of 2×2 inverted radar dishes to look like plates. Another new part is 2×2 bowl that gets used as a both a planter and inverted as a lampshade. Although for me the coolest new part had to be the awesome scooter!
This set demonstrates plenty of new building techniques and ideas for putting bricks together in interesting and different ways that make this set a clear must-have for any modular fan. In fact, our build-group had some non-modular fans that will probably now become converts!
I rate the Parisian Restaurant a 10/10.
For another great (perhaps quite a lot more in depth) review, check out brickset!